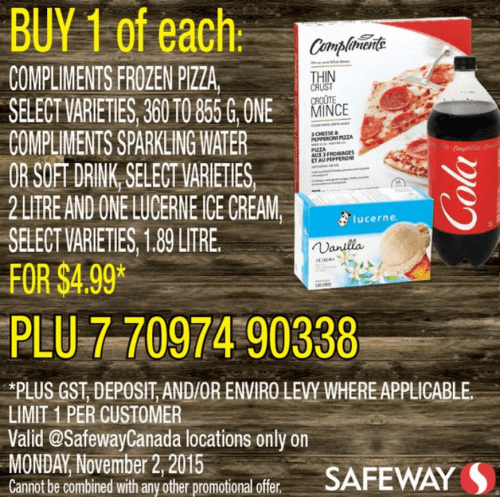 If you're craving pizza, Safeway Canada has a great deal of the day this Monday that is much cheaper than ordering out! Head over to Safeway today and you could purchase a frozen pizza, a beverage and ice cream for just $4.99!
Today's deal includes:
Compliments Frozen Pizza, select varieties 360-855g
1 Compliments Sparkling water or Soft Drink 2L
1 Lucerne Ice Cream, select varieties 1.89L
Ordering pizza and a drink from your favourite pizza shop often costs $15 and up, but you can purchase this deal, plus some ice cream for only $5! It's a great way to satisfy your pizza craving while keeping some added money in your pockets.
This deal is valid November 2, 2015 only while supplies last. There is a limit of one deal purchase per customer.
Click here to view deals in this week's Safeway flyer.