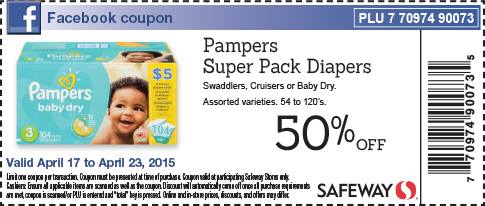 Each week Safeway Canada features a new coupon for its fans via the Safeway Canada Facebook page. These Deal Of The Week coupons are typically high value, and here is one such coupon that cycles around from time to time, and is an offer worthy of your attention. Save 50% on Pampers Super Pack diapers with this coupon, valid from April the 17th to the 23rd, 2015.
Even if the diapers are regular price to begin with, this is better than any other sale price you will find. The coupon is valid on your choice of Pampers Swaddlers, Cruisers, or Baby Dry, in the 54-120 count boxes. Printing the coupon is not necessary if you would rather not use ink. You can simply show the offer on your smart phone at the cash.
The coupon carries a limit of one per transaction, so multiple transactions or trips to the store will be required to use the offer more than once.
Click here to access the coupon for 50% off Pampers Super Pack diapers through the Safeway Canada Facebook page.