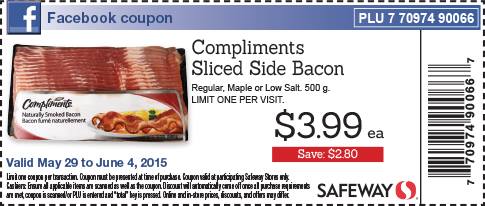 Another Friday means another brand new Safeway Canada Facebook exclusive coupon, also known as the Deal Of The Week coupon. These offers are for Safeway Canada Facebook fans, and typically provide a substantial savings on one product for the duration of the week.
This week, get Compliments Sliced Side Bacon for just $3.99 with this coupon. That is a savings of $2.80 off the regular price of $6.79. The bacon is available in the regular variety, but you also have the choice of the Maple or Low Salt versions. The Compliments bacon is still a 500g pack size, making it a full pound of bacon, unlike other manufacturers who have shrunk their pack sizes to less than a pound.
This coupon does specifically specify a limit of one per visit, so if you require more than one package you will have to make more than one trip throughout the week.
Click here to access the Safeway Deal of The Week Coupon.