Check out this week's round of coupons from Safeway Canada which are valid between today, March 18 and March 24, 2016. Make the perfect weekend dinner and dessert with these coupon deals that include beef burgers, veggie burgers, and the most important part: cheesecake!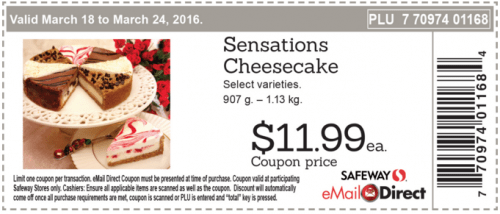 Compliments beef burgers for just $18.99
Naturally Simple granola bars for just $0.69
Compliments Balance veggie burgers for just $4.99
Sensations cheesecake for just $11.99
Compliments organic extra virgin olive oil for just $7.49
Click here to view the Safeway Canada coupons.