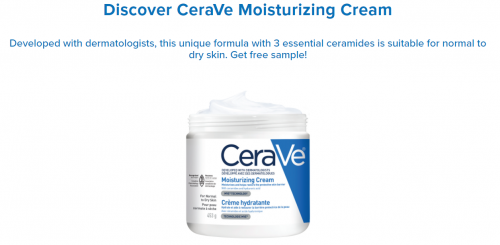 This sample opportunity for CeraVe moisturizing cream is still available from Sampler Canada, and if you haven't yet requested yours you can give it a shot through the link below.
It is common with Sampler offers that not everyone is eligible for each opportunity, so if you are told that you don't qualify be sure to try when the next Sampler offer becomes available. Eventually you will qualify for a free sample so don't be discouraged. If you don't have an account with Sampler be sure to sign up. You can sign up through Facebook or using an email, and you will be asked to verify your account via a text sent to your phone number.
If you previously received this sample you will not be able to request it again. I believe this sample comes with a coupon as well, but if you find you like, I buy the giant tub with the bonus tube at Costco on sale, because I find it to be the best value and I love this stuff.
Click here to see if you qualify for this free sample of CeraVe moisturizing cream from Sampler.