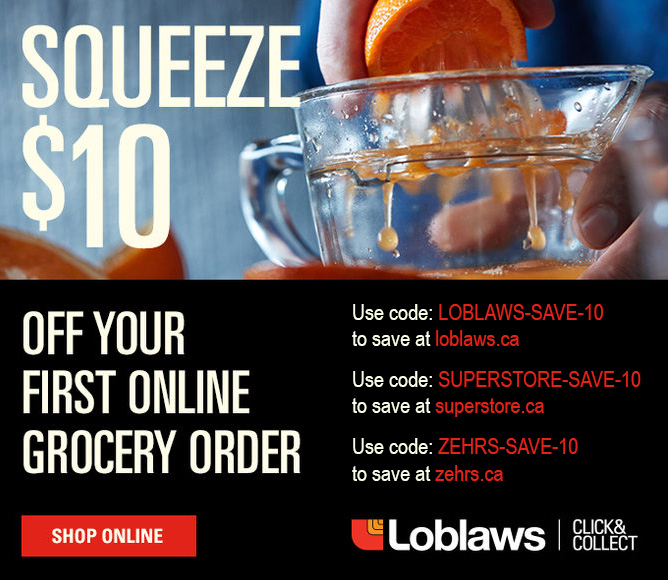 If you haven't tried Click and Collect yet, more and more Loblaws banner stores are offering the service.  Simply set up a Click & Collect account at the store of your choosing, order your groceries and pick them up at your chosen time.  It is a great service if you are in a rush to get home and don't have time to shop or don't want to take the little ones shopping with you.
There is a cost of $3 for pick up (some stores have $5 at peak times) but you can offset this cost and some of your groceries with these new promo codes.
To shop with Loblaws, simply enter LOBLAWS-SAVE-10 at checkout
To shop with Superstore, enter SUPERSTORE-SAVE-10 at checkout
To shop with Zehrs, enter ZEHRS-SAVE-10 at checkout
These coupons are valid once per account.  Click & Collect is not available in my area so I have not tried these using an account that had previous orders to see if they work if you used the older codes, but worth trying.  There is a minimum cost of $50 grocery order to use the coupon.  Choose one of the cheaper times to pick up and you get $7 in free groceries.
These coupons expire on December 31st, 2017 are valid for Ontario only.  So even if you don't want to use it now, save it for a time when you are sick or super busy and don't want to shop yourself.