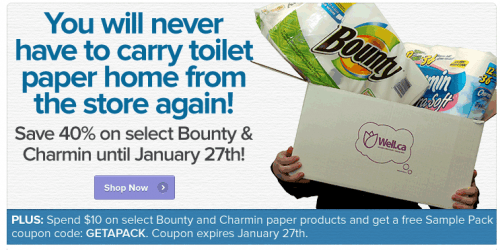 Another offer from well.ca!  Save 40% on select Bounty and Charmin products until January 27th.
Shipping is free over $25 and there are a couple of promo codes you can use.  Spend $10 on Bounty or Charmin and get a free sample pack with code GETAPACK (all customers)- it includes the following:  Tide Spring Meadow Pods Sample (1 Pod), Dawn Original Scent Ultra-Contentrated Dishwashing Liquid Sample (9 mL), Cascade Complete All-in-1 ActionPacs (2 Pacs), Swiffer 360 Degree Duster (1 Duster), Mr. Clean Magic Eraser Extra Power Sample (1 Pad), Downy Unstoppables In-Wash Fresh Scent Sample (1 Load) & Febreeze Set and Refresh Starter Kit (1 Cartridge) – so pretty much a brandsampler
Or for if you have never ordered from well.ca, spend $40 on almost anything (excludes diapers and paypal payments) and get $10 off with code TPAPER2013. The codes cannot be used together, but you can probably buy a lot more than the samples with $10.
I will admit to being lazy and using well.ca for heavy/bulky stuff I don't want to carry home!