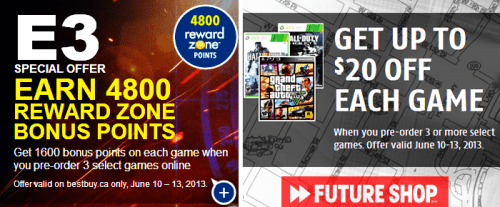 Best Buy and Future Shop have some great deals when you pre-order select games.  The best deal will depend on the games you want to order.
Best Buy: Pre-order 3 select games and earn 4800 Reward Zone bonus points when you order June 10-13.  4800 bonus points is worth $60 in redemptions.
Future Shop: Get up to $20 off each game when you pre-order June 10-13 ($20 applies to games $59.99+ only, games priced at $49.99 save $17 each and games at $39.99 save $13.60 each).
So if you are ordering cheaper games, Best Buy is a better deal, if they are included.  If you do not want three games, Future Shop is offering smaller discounts on each game.