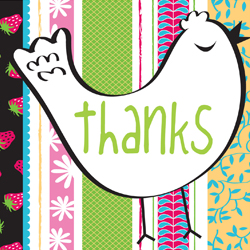 Our lives are always so busy that sometimes we forget to take time out to thank the people we cross paths with.   You may want to thank your parents for the sacrifices that they made for you when you were young, thank your partner for always being there or maybe just drop a thank you card off for someone who went out of their way to make your shopping experience a good one.
I know that I would never turn away a thank you card and I always feel all warm and fuzzy inside when somone goes out of their way to thank me. 
Some of these cards are also perfect for your children to colour on those long rainy days.  Let your creativity flow with these free printable thank you cards.
Click here to get your Free Printable Thank you Cards
**thank you AmberLab**