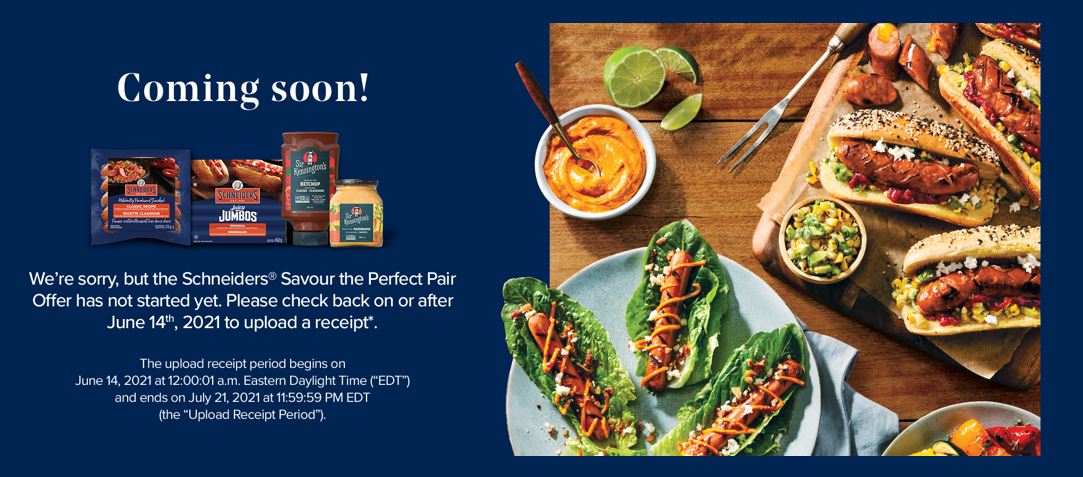 Schneiders Canada has a new promotion coming soon! The Savour the Perfect Pair promotion will begin on June the 14th, which is the first day that you will be able to upload your receipt.
To participate in this promotion, purchase two packages of Schneiders Smoked Sausages or Wieners, upload your receipt, and you will receive a coupon for a free Sir Kensington's condiment, a Schneider's recipe booklet, and three $2 coupons redeemable on Schneider's products!
You must upload your receipt by July the 11th, 2021, and be sure to make your purchase of two Schneider's products on the same receipt. The Kensington condiment coupon may be redeemed on the classic or chipotle mayo, avocado oil mayo, ketchup, or spicy ketchup.
If you wish to participate multiple times in this promotion you are able to do so. There is a limit of five submission per email address, but just be sure that you are purchasing each of the two products on separate receipts.
Click here to upload your receipts on June the 14th.