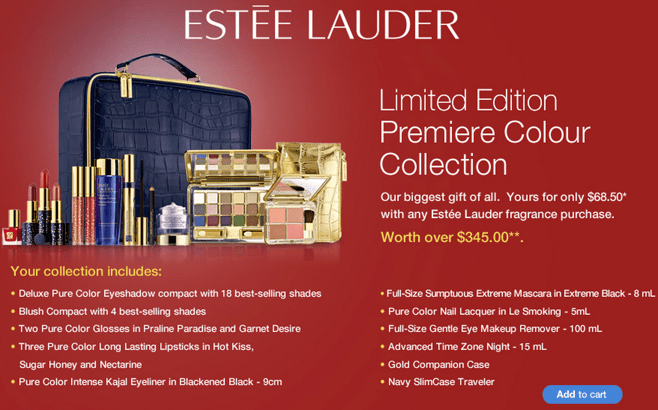 Sears Canada is offering a sweet "Beauty Gift"! Get Estée Lauder Pre­miere Colour Col­lec­tion for ONLY $68.50 (worth over $345) with any Estée Lauder fragrance pur­chase.
Estée Lauder Canada Pre­miere Colour Col­lec­tion includes:
Deluxe Pure Color Eye­shadow com­pact with 18 best-selling shades

Blush Com­pact with 4 best-selling shades

Two Pure Color Glosses in Pra­line Par­adise and Gar­net Desire

Three Pure Color long Last­ing Lip­sticks in Hot Kiss, Sugar Honey and Nectarine

Pure Color Intense Kajal Eye­liner in Black­ened Black — 9cm

Full-size Sump­tu­ous Extreme Mas­cara in Extreme Black — 8 ml

Pure Color Nail Lac­quer in Le Smok­ing — 5 ml

Full-size Gen­tle Rye Makeup Remover — 100 ml

Advanced Time Zone Night — 15 ml

Gold Com­pan­ion Case

Navy Slim­Case Traveler

Elegant Estée Lauder beauty gift bag
Also, Sears Canada has FREE Ship­ping on all $99 or more online orders until Wednesday, Decem­ber 20 , 2013 for any item less than 65 lbs
Click here to get this Estée lauder deal at Sears Canada online.