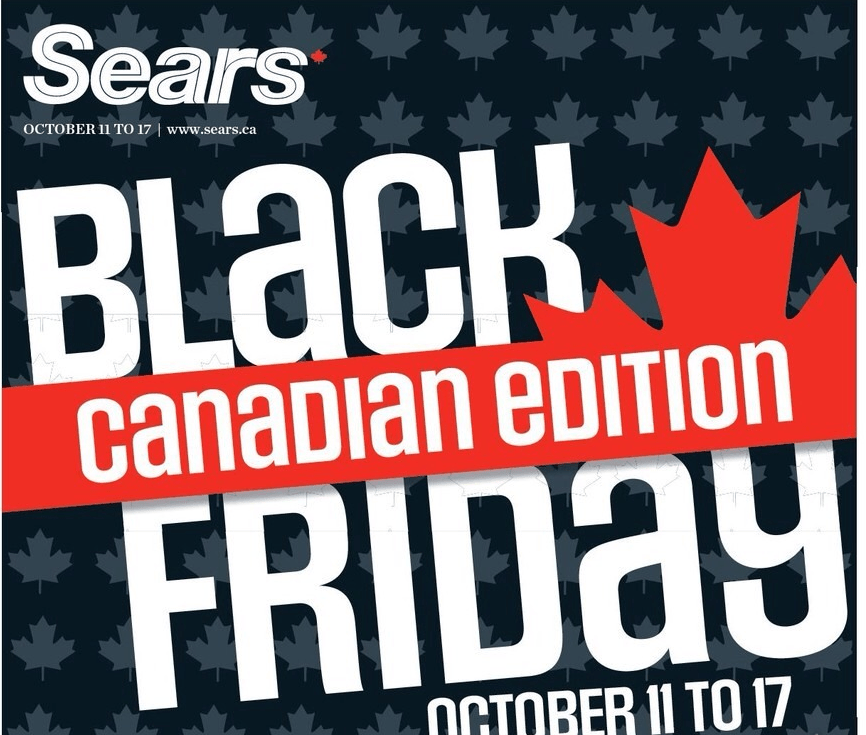 Sears is having a Canadian Edition Black Friday sale starting Thursday October 11th and lasts until October 17th. The sales look fantastic!  The sales are mainly appliances and other home and garden items. Here are the the deals in this Sears Canada Black Friday Canadian Edition Flyer:
-> Frigidaire Professional Kitchen Package – SAVE $2400! ONLY $1999.97 (when you purchase all 3 featured frigidaire pro items)
These three items include: Frigidaire Professional 6.0 cu. ft. self-clean smooth-top convection range
Frigidaire Professional 22.8 cu. ft. fridge with bottom freezer. 33″ wide.
Frigidaire Professional stainless steel dishwasher.
-> Frigidaire Professional Kitchen Package – SAVE 50%! ONLY $2499.97 (when you purchase all 3 featured frigidaire pro items)
These three items include: Frigidaire Professional 4.2 cu. ft. self-clean true convection dual fan range
Frigidaire Professional 22.8 cu. ft. fridge with bottom freezer
Frigidaire Professional stainless steel dishwasher 
Rest of the deals  in this Sears Canada Black Friday Canadian Edition Flyer:
Laundry Pair – SAVE $250! ONLY $599.98
Front Load Steam Laundry Pair – SAVE $1200! ONLY $1999.98
High Energy Laundry Pair – SAVE $700! ONLY $1299.98
Front Load Steam HE Laundry Pair – SAVE $800! ONLY $1599.98
Eureka Airspeed pet 10-amp upright vacuum – SAVE 30%! ONLY $59.99
Kenmore 12-amp cyclonic bagless canister vacuum – SAVE 40%! ONLY $199.99
Kenmore 18 cu. ft. fridge with bottom freezer – SAVE $300! ONLY $699.99
Kenmore tall tub hybrid dish washer – SAVE $250! ONLY $399.99
Kenmore 18.2 cu. ft. fridge with top freezer – SAVE $120! ONLY $479.99
Kenmore 21.9 cu. ft. fridge with bottom freezer – SAVE $300! ONLY $1299.99
Kenmore 24.7 cu. ft. french door fridge with ice and water dispenser – SAVE $800! ONLY $1899.99
Kenmore 5.7 cu. ft. self-clean true  convection range- SAVE $300! ONLY $749
Frigidaire 5.0 cu. ft. true convection gas range – SAVE$600! ONLY $999.99
Kenmore 6.1 cu. ft induction smooth-top true convection range – SAVE 40%! ONLY $1199.99
SAVE UP TO 50% ON OVER 5000 FURNITURE ITEMS!
Porto Sofa, Taurus Sofa, Hollister reclining sofa – SAVEUP TO $600! ONLY $499 EACH
Joseph rocker-recliner – SAVE 80%! ONLY $299.99
Abbott Sofa – SAVE 50%! ONLY $999.99
Orleans queen sized bed – SAVE 60%! ONLY 699.99
Nordictrack 4.0 treadmill – SAVE 70%! ONLY $499.99
Xterra Treadmill – SAVE 55%! ONLY $899.99
Bowflex home gym – SAVE 55%! ONLY $539.99
Outdoor christmas 3 piece set – SAVE 50%! ONLY $99.99 (2 pre-lit porch trees and pre-lit wreath)
Outdoor christmas 70 mini light strand and 50 light strand – SAVE 40%! ONLY $29.99 AND $17.99
Sealy Malta tight-top queen size sleep set – SAVE 60%! ONLY $479.99
WholeHome Classic tight-top queen size sleep set – SAVE 60%! ONLY $639.99
Sealy Posturepedic Eagle Creek tight-top queen size sleep set – SAVE 60%! ONLY $719.99
WholeHome Grand Refinement Euro-top queen size sleep set – SAVE 60%! ONLY $1199.99
Serta Perfect Sleeper Renee tight-top queen size sleep set – SAVE 60%! ONLY $959.99
Kingsdown Sanctuary II Euro-top queen size sleepset – SAVE 60%! ONLY $1599.99
Royal bliss 100% cotton pillow – SAVE 60%! ONLY $7.99
WholeHome Oasis Towels – SAVE 55%! ONLY $7.99
Bed in a Bag Sets- SAVE  UP TO 60%! ONLY $79.99
Kitchenaid custom metallic stand mixer – SAVE 55%! ONLY $299.99
Lagostina Gastronomica 12-pc 18/10 stainless steel cookware set – SAVE 75%! ONLY $174.99
The Cuisinart Griddler – SAVE 35%! ONLY $79.99
Selected Wilton bakeware – SAVE 70%!
Heritage Jumbo Cooker – SAVE 60%! ONLY $19.99
Frigidaire convection toaster oven – SAVE 40%! ONLY $99.99
Anchor Hocking Measuring Cup – SAVE 70%! ONLY $3.59
Lagostina Euro Skillet – SAVE 75%! ONLY $9.99
Total Chief 12 pc. Miracle Blender – SAVE 80%! ONLY $19.99
Tassimo single serve brewer – SAVE 65%! ONLY $49.99
Nespresso  Essenza – SAVE 50%! ONLY $64.99
Craftsman 3-in-1 Push mower – SAVE 35%! ONLY $147.99
Craftsman Snow thrower – SAVE $300! ONLY $799.99
Craftsman 19.2v drill – SAVE 50%! ONLY $79.99
World's greatest 17′ ladder with bonus step stool – SAVE 55%! ONLY $99.99
Craftsman Professional Snow Thrower – SAVE $500! ONLY $1199.99
Craftsman Electric Leaf Blower – SAVE 50%! ONLY $39.99
Briggs and Stratton Pressure Washer – SAVE $100! ONLY $189.99
Craftsman 6-drawer tool chest – SAVE 80%! ONLY $139.99
Craftsman 45L wet dryy vac – SAVE 50%! ONLY $74.99
Craftsman 104 pc socket set – SAVE 50%! ONLY $99.99
Craftsman 72 pc screwdriver set – SAVE 75%! ONLY $19.99
Craftsman 9 pc suregrip wrench set – SAVE 70%! ONLY $29.99
Craftsman 75 pc screwdriver bit set – SAVE 70%! ONLY $8.99