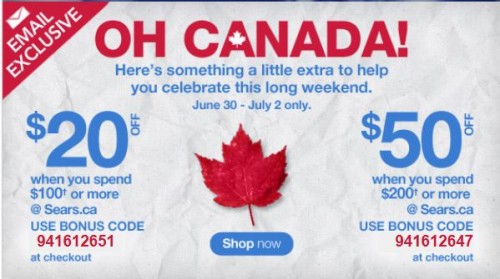 Save $20 when you spend $100 or more @ Sears.ca use bonus code 941612651
Save $50 when you spend $200 or more @ Sears.ca use bonus code 941612647
Spend $75 or more and receive free shipping thru July 2nd as well.
Click here to shop at Sears.ca

See details below.
†Total merchandise order before taxes and applicable charges. Offer valid June 30 – July 2, 2012 only. Limit one Bonus Offer Number per order; cannot be combined with any other Bonus Offer Number. EXCLUDES items with prices ending in .88, .94 and .97, cosmetics, fragrances, electronics, major appliances, vacuums, Gift Card purchases, deferral or installment billing fees, protection agreements, delivery, installation and maintenance charges. Not negotiable, transferable or redeemable for cash. Not acceptable for Sears Card Account payments. Only valid on Sears.ca. Not valid in-store.Offers not valid on sears.ca/Outlet purchases.
*When you place a catalogue or sears.ca order between June 29 and July 2, 2012, for items that are less than 65 lbs., the shipping charge and handling fee is waived. Applies to Canadian delivery addresses only. NOTE: Regular shipping fees still applies to large/heavy items. You will be advised of any shipping costs when you order. Large/heavy items are considered as follows – item length must not exceed 78.74 in., item length plus girth must not exceed 118.11 in., item weight must not exceed 65 lbs. Excludes locations with remote shipping charges.
**Before taxes.