Once again you seen it here first! Thanks Sunni for the heads up.
Exclusive Summer Gift with Purchase!
May 18 to May 26, 2012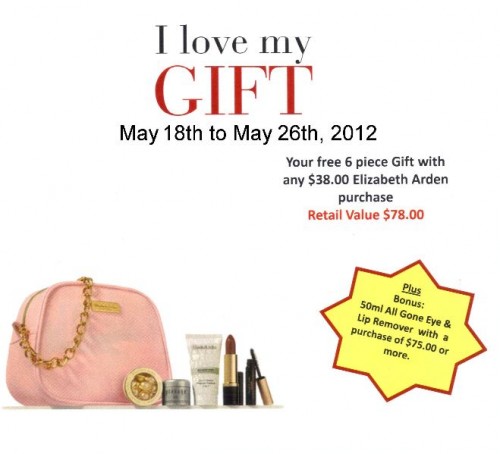 Luxury Tote from Elizabeth Arden with any beauty purchase of $38.00 or more!
6 piece gift includes some of Elizabeth Arden's top selling products and is valued at $78.00!
Spend $75.00 and you'll get an "All Gone Eye and Lip Remover" PLUS while supplies last you'll also get to choose a FULL SIZE select Step Up item absolutely FREE with your $75.00 purchase!
Details available at Sears Elizabeth Arden
Preselect today to Guarantee you get the gift items and FREE Step Up you really want!
2 in 1 Cleanser
Hydra-Gentle Cleanser
Hydra-Splash Alcohol Free Toner
Perpetual Moisture 24 Cream
Perpetual Moisture 24 Eye Cream
Good Night's Sleep Restoring Cream
Good Morning Skin Serum
Extreme Conditioning Cream SPF 15
Overnight Success Skin Renewal Serum
Intervene Skin Tone Perfecting Capsules
Intervene Time Fighting Radiance Serum
Intervene Stress Recovery Night Cream
Intervene Radiance Boosting Moisture Lotion
Intervene Radiance Boosting Moisture Cream
Intervene 3 in 1 Daily Cleanser / Exfoliate / Primer
Intervene Anti-fatigue Eye Cream
Intervene Peel and Reveal Revitalizing Treatment
Intervene Daily Moisture Lotion