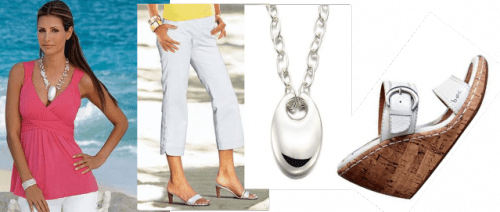 Sears Canada has given me  4 tickets to give away to Smart Canucks readers to attend a Fashion Week Event on March 31 2010!
How do you enter? Simply be available to attend The LG Fashion Show Event and be  in the Toronto area on March 31 2010. You also must be at least 18 to enter. I am going to post an "outfit" from Sears.ca each day and I want you to tell me if its a hit or miss, and if it's a miss what you'd do to make it a hit (using Sears.ca clothing. )  Your responses will be your entry. On March 29th at 8pm I will draw 2 random winners to win a set (2) tickets each.
Remember please DO NOT enter unless you would be available to attend the event.
Todays pick is "Together"
Cross Over Tank Capris paired with a Jessica Circle Pendant and BOC Born Sandals