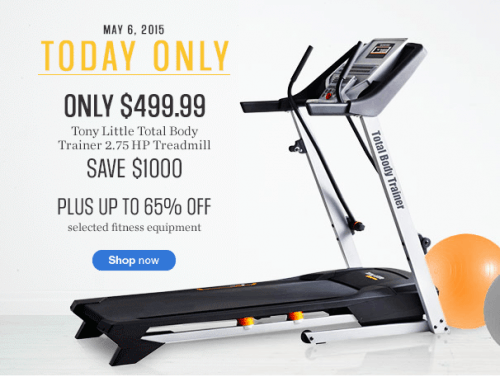 Sears Canada is having a flash-sale today that is centred around the theme of fitness. Their first big ticket sale is on a Little Tony Total Body Trainer 2.75 HP Treadmill, which is currently on sale for $1000 off the original price and is now the much more feasible price of $499.99 (was $1,499.99). This mighty little treadmill has all the features that will help you get back on the fitness tracks, including 16 preset workouts that focus on cardio, fat burn, and interval training. The treadmill also comes equipped with a Mach Z Motor, which will help with your interval training as you will quickly be able to switch the intensity level from low to high as well as change the incline without slowing down.
To go with your new treadmill, you will presumably need some new gear as well to keep you focused on your fitness goals. You are in luck as Sears is also having a sale on women's and men's fitness apparel, with women's apparel being sold for up to 50% off and men's apparel being discounted by up to 30% off.
This sale will only be valid until 11:59pm EST this evening.