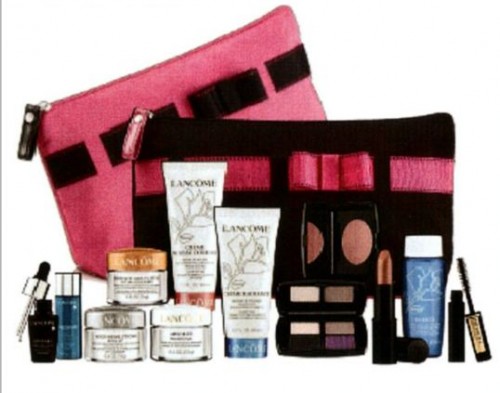 August 23rd to September 14th, 2012
*while supplies last*
Sunni from Sears Kingston writes: As this will be a "choose your own" promotion I strongly recommend reserving your purchase item AND choosing your gift items prior to August 23rd to avoid disappointment and ensure you get the gift items you really want!
Reservations are simple, convenient and guaranteed! You can reserve your items with any credit card or by purchasing a gift card for the full amount (including tax). The purchase is billed on the morning of August 23rd, 2012. You can pick up your order on August 23rd or any time after that is convenient for you!
Minimum purchase amount $35.00
CHOOSE YOUR SERUM:
Visionnaire – Advanced Skin Corrector Wrinkles – Pores – Evenness
OR
Génifique Dropper Youth Activating Concentrate
CHOOSE YOUR SKINCARE:
Crème Bienfait Multi-Vital SPF 30 High Potency Daily Moisturizing Cream
OR
High Resolution Refill 3X Triple Action Anti-Wrinkle SPF 15
OR
Absolue Premium BX Absolute Replenishing Cream
CHOOSE YOUR FACE CLEANSER:
Crème Mousse Confort Dry – Sensitive Skin
OR
Crème Radiance Combination Skin
CHOOSE YOUR MAKEUP:
Color Design Sensational Effects Eye shadow (Daylight, Exhibition, The New Black, Trendy)
OR
Blush Subtil Powder Blush – Aplum
AND RECEIVE:
Color Design Sensational Effects Lip Color Natural Beauty
Bi-Facil Double Action Eye Makeup Remover
Definicils Precious Cells Mascara Amplifying High Definition – Black
PLUS GET YOUR EXCLUSIVE LANCÔME COSMETIC BAG
STEP UP! *while supplies last!
$85.00 or more before taxes
4 pc FULL SIZE Brush set and carrying case!
(Picture quality is low sorry)