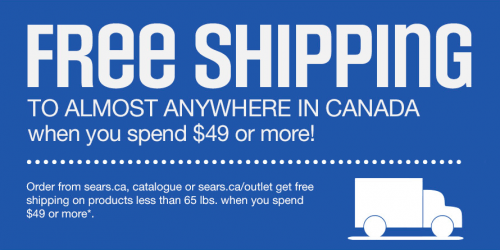 For those of you who spend a lot of time shopping online or thorough the Sears Canada catalogue, you will be very impressed to hear that they have reduced their free-shipping threshold from $99 or more, to now just $49 or more. This $50 threshold drop will make it so that you don't feel pressured into buying a bunch of filler items, that even if you plan on returning, there's always that fear that they won't give you a full refund and will perhaps just provide you with store credit.
This free-shipping offer has conditions that are the same as the $99 or more offer, where oversized or overweight items will be charged extra as well as people having orders shipped to remote areas. The weight restriction is 65 lbs and over, while the size restriction is a bit more complicated. If your item's length exceeds 78-inches, or the length plus the girth exceeds 118-inches, then you will not qualify for the free-shipping offer.
Click here to learn more about the Sears Canada free-shipping offer.