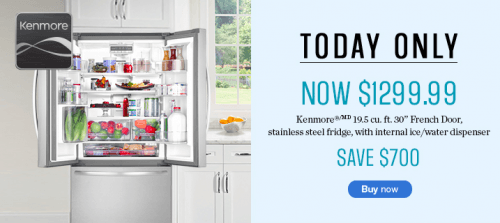 Today at Sears Canada, you can save big on Kenmore appliances, more specifically on kitchen refrigerators and vacuum cleaners. The Kenmore 19.5 cu. ft. 30″ French Door Stainless Steel Fridge from Sears is on sale (today only) for $700 off the retail price of $1999.99, and is now just $1,299.99. This refrigerator is the perfect solution to smaller kitchens as the double-door French doors are slim enough to not dominate much of your space. Plus, unlike most smaller refrigerators, this stainless steel Kenmore model has a bottom-freezer, which means you will have a larger area of your fridge dedicated to the freezer section.
Sears is also running a one-day special pricing on Kenmore vacuums, with the hottest offer being on the Kenmore 12-amp canister vacuum. This model is now being sold for just $299.99, which is a substantial $200 off the original price of $499.99. If this vacuum is still a bit outside your comfort zone, then you could opt for this Kenmore/MD 12-Amp Bagless Upright Vacuum, which is just $119.99 (was $199.99), or this Kenmore/MD 12-Amp Upright Vacuum, which is $10 cheaper at just $109.99 (was $149.99).
Sears offers free-shipping on all orders that are $99 or more.
Click here to begin shopping the one-day deals at Sears Canada online.