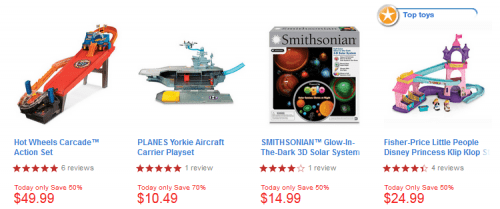 Sears have some great prices on toys in their one day sale today.  Save up to 70% on select toys, here are some highlights but there are many more at great prices.
MARVEL Iron Man Ultron 6" Iron Legends Figure $5.99 (reg $20)
Hot Wheels Carcade™ Action Set $49.99 (reg $100)
Furby Plush Toy Pets $37.49 (reg $75)
Play-Doh 24-Pack Of Colours $9.99 (reg $20)
Various Hot Wheels – Save 70%
Wi-Spi™ Radio-Controlled Helicopter $41.99 (reg $140) – other RC helicopters even cheaper
Cool Baker™ Cake Pop Maker $8.99 (reg $30)
Hauck™ i'Coo™ "Grow With Me" Doll Playset $35.99 (reg $120)
Radio-Controlled Rocket Launcher $26.99 (reg $120)
Save even more by entering promo code 941612007 at checkout to save $10 off a purchase of $25 or more.  Click here to shop these toys.  Let us know what you buy!