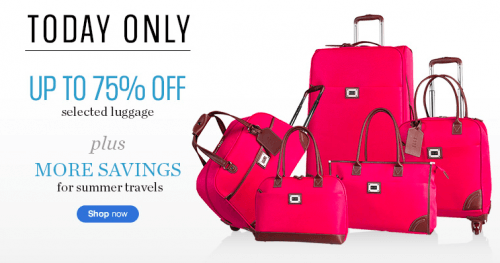 Sears Canada has a sale on today that is designed for those of you making plans for travel to a warmer destination in the near future, or for those of you looking forward to your summer vacation plans to the beach house. Their one-day sale for today features deals on select luggage pieces, that are being sold for up to 75% off, as well as sales on men's and women's swimwear, tees and shorts, which have been marked down by up to 50% off.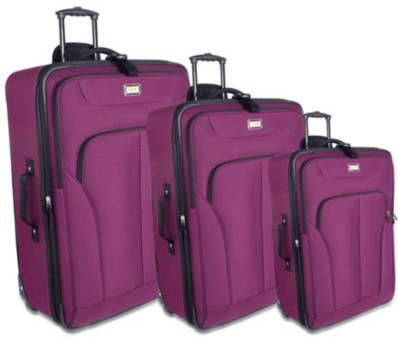 Within the luggage sale, you are bound to be very lucky no matter what kind of set or singular piece you are looking for, as the average discounted rate on all of the luggage sets seems to be between 50%-75% off. Take this Via Rail Canada 28" Expandable Upright piece of luggage as an example of the deals you can find on single pieces of luggage, as it is currently on sale for just $64.48 (was $214.99). If you're on the hunt for a set rather than an individual piece of luggage, then I'd suggest checking out the sale on this 5-piece Elle Luggage Set, which is now being sold for just $114.24 (regularly $456.99). The set has a lot of variety in terms of the bags measurements and shapes, as it will include: 
28″ upright measures 17″ w. x 9-11 1⁄2″ d. x 27 1⁄2″ h.
20″ carry-on rolling tote measures 12 1⁄2″ w. x 10 3⁄4″ d. x 19 3⁄4″ h.
19″ shoulder tote measures 12″ w. x 6″ d. x 18 1⁄2″ h.
17″ computer bag measures 12″ w. x 4 1⁄2″ d. x 16 1⁄2″ h.
16″ wheeled business tote
As for what you will fill your newly acquired bags with, if you're needing some new beachwear then you should also check out the sale that Sears has on men's and women's swimwear, shorts, and tees. I was able to find these funky Nike 'Frequency' E-Board Swim Shorts on sale for just $22.40 (regularly $56), and for the ladies I was even able to find this nice Point Zero Hooded Beach Cover Up on sale for $41.99 (was $59.99).
In addition to these one-day deals going on at Sears right now, you can also use the promo code, 941612343, to receive $10 off on your purchases of $50 or more. This promo code will only work on select products at Sears, so be sure to test it out before placing your order.
Sears offers free-shipping on all orders that are $99 or more, and will be offering these deals until the end of today.
Click here to begin shopping the one-day sales at Sears Canada online.