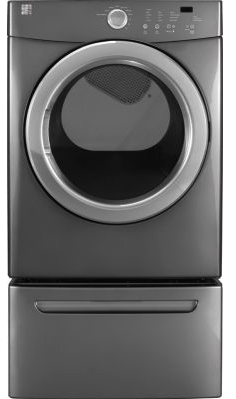 Sears Canada often times has some of the best prices you will find on major appliances from trusted brand names, and in today's deal they do not fall short on delivering exactly what they have come to be so well known for. Sears is selling this Kenmore 7 cu. ft. King Size Capacity Electric Dryer, Steam System right now for the reduced price of $724.99. They have knocked down the original price of this dryer by a considerable $375, as it was previously being sold for $1,099.99.
Kenmore's name is a trusted household name when it comes to dealing with kitchen and laundry appliances, but what really made this product stand out for me (apart from its price) was the Steam System that it will come equipped with. Through this feature, clothes will be able to be dried by steam that rises up from the bottom of the dryer, which will essentially eliminate the need for dryer sheets.
Dryer sheets can sometimes cause irritation to skin, and are also an added laundry expense that, if you could do without, would shave dollars off your weekly grocery bill. The dryer can also use this Steam System for a Refresh cycle, that will remove wrinkles and odours from your clothing in 15 minutes or less. This feature could mean that you won't need to make quite so many trips to the local dry cleaner either, which is just another way that this dryer will save you money outside of its initial discounted price.
Sears will be offering this deal until May 18th.
Click here to buy the Kenmore 7 cu. ft. King Size Capacity Electric Dryer, Steam System from Sears.