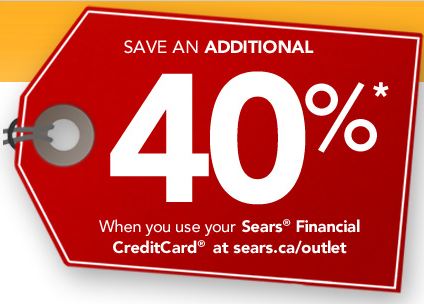 The Sears Outlet sale is back!  Save 30-40% extra off all outlet items until January 9th.  If you use your Sears card you get 40% off, without one you get 30% off extra.
To save 30% off the outlet use this code 941612694
To save 40% off the outet use this code 941612695
Click here to shop at the Sears Outlet.  I scored some great deals on the outlet sale a few weeks ago. Hopefully theres so new items added so I can buy more stuff!
If your not shopping at the Outlet here are some regular codes (not for appliances or electronics or items ending in .97)
$10 off when you place an order of $100 or more 941 612 879
$20 off when you place an order of $200 or more 941 612 880
$50 off when you place an order of $500 or more 941 612 881
**Remember these are only if you are not using the outlet code** You CANNOT stack