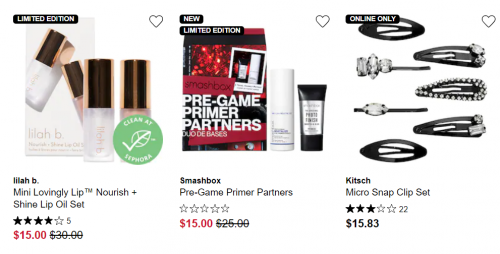 Sephora Canada currently has a number of value and gift sets on sale! Even at regular price, some of these gift sets provide incredible value and are perfect for gift giving, or trying out several new products at a great price point. Here are some of the gift and value sets that are on sale at the moment, in order from lowest to highest priced:
lilah b. Mini Lovingly Lip Tinted Lip Oil Duo $13-$15 (regular $26-$30)
Clinique Slip On, Swipe Off Makeup Set $14 (regular $20)
Smashbox Pre-Game Primer Partners $15 (regular $25)
GXVE by Gwen Stefani Mini Originals Lip Set $16.50 (was $33)
Origins Mask This Was=y 5-Mask Starter Set $19 (regular $27)
Fenty Beauty by Rihanna Lil Fly Stunna Mini Eye+Lip Set $22 (regular $32)
Tarte SEA Best Kept Secrets Best Sellers Set $23 (regular $39)
Clinique Bold in a Snap Eyeliner and Mascara Set $23 (regular $33)
Fenty Beauty by Rihanna Glossy Posse 4-Piece Gloss Bomb Set $25 (was $50)
Fenty Beauty by Rihanna Snap Shadows Mix and Match Eyeshadow Palette $25 (regular $36)
Too Faced Yummy Gummy Makeup Set $27 (regular $55, and a $148 value!)
Smashbox After-Party Starter Primer Duo $31.50 (regular $52)
Clinique Must-Have Makeup Set $32 (regular $46)
Voluspa Macaron Candle Trio Set $32 (regular $54)
Too Faced Christmas Bake Shoppe Makeup Set $34 (regular $69, and a $385 value!)
Tarte SEA Modern Mosaic Pattern Wardrobe $38 (regular $64, and a $197 value!)
I've gone through the first 180 results for gift sets picking out the sale items, but there are 591 results in total, so if you keep going you will find many more! Sign into your Insider account for free shipping on any order.
Click here to shop gift and value sets from Sephora Canada