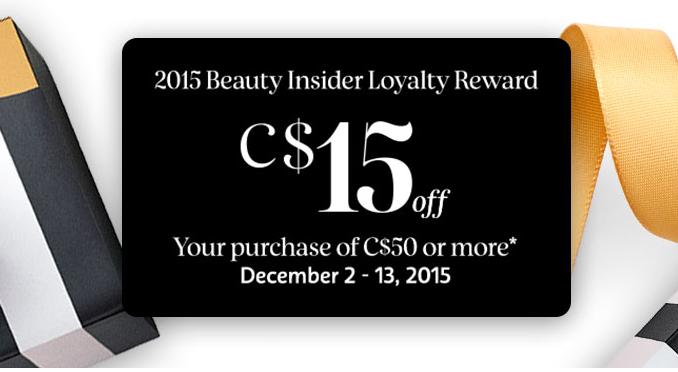 It's certainly the most wonderful time of the year for Sephora Beauty Insiders, as Sephora is now sending out their 2015 Beauty Insider Loyalty Reward coupon for $15 off your purchase of $50 or more! This is an offer that is hard to refuse, so if you are a Sephora Beauty Insider member you may want to drop everything and check your email for your personal offer!
If you have received the coupon you must print the coupon and present it in the store between December the 2nd and the 13th to claim the offer. The email you receive will also contain a unique code that you may use if you would prefer to shop online. The offer is valid for one time use, and to have qualified to receive the email you must have become a Sephora Beauty Insider by October the 1st, 2015, so unfortunately if you have only become a Beauty Insider within the past couple of months you will not be receiving an email.
Now the only problem is deciding what to use the coupon on! Click here to shop Sephora Canada online.