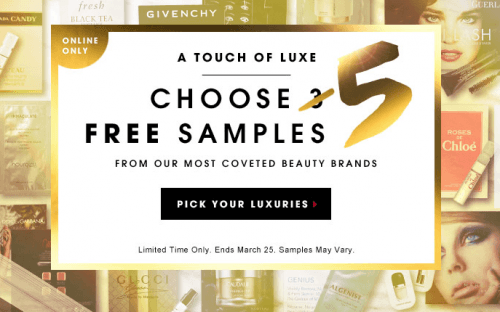 Shop at Sephora Canada Online only and receive 5 FREE Samples! You used to be able to choose 3 free samples but now you can get even more freebies from Sephora Canada.
The free samples from Sephora Canada include:
Givenchy Lengthened Designer Lashes
Immaculate Velvety Shine-Free Finish
Caudalie Ultrarich Antiaging Cream
Marc Jacob Advanced Skin Brighteners
Chloe Rose Signature Eau de Toilette Spray
Fresh Black Tea Instant Perfecting Mask with Antioxidants
Maxi Lash High Performance Mascara
Amore Pacific Future Restorative Protector
Dolce & Gabbana Richy Creamy Sensual Lipstick
Algenist Powerful Luxury Treatment Cream
Gucci Bespoke Bergamot Blend Eau de Toilette
Prada Full of Joie Eau de Toilette
These samples are rather small and shipping is around $7, but if you want to make it worth while you can check out the Sephora Sale section and get your hands on some great deals which will include the above free samples 🙂
Some of the items on sale at Sephora Canada that caught my eye are:
Sephora Collection Event Entry Palette – was $13.00 – now $7.00
Urban Decay Anarchy Face Case – was $49.00 – now $34.00
Ciate Sugar Caviar Manicure – was $25.00 – now $13.50
Sephora and Pantone Universe Jumbo Eye Pencil – was $20.00 – now $10.00
Sephora and Pantone Universe Elemental Energ Eye Shadow Palette – was $46.00 – now $25.00
If your order totals over $75 you will receive FREE Standard Shipping.
Click here to shop at Sephora Canada online to get your sales and free samples!