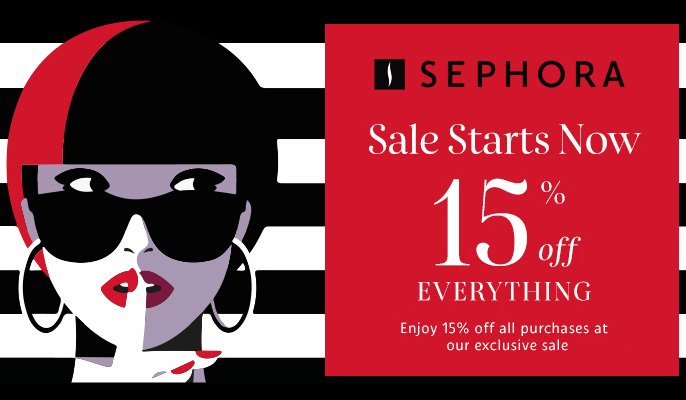 If you shop at Sephora, you will know that they are not big on promotions.  You get gifts with purchase but unless something goes on clearance, discounts are few and far between.  They hold a few discount events each year and the Spring Sale starts this week!
Rouge members get to take advantage first, as always.  The Rouge sale runs April 18th to 24th and can be used multiple times in store or online.  If shopping online, enter ROUGESPRING for your 15% discount.  Shop tomorrow and you can bring a non Rouge member friend to shop with you.  They can take advantage of your code at the cash and still earn points plus you both get a tote bag while supplies last!
Next up are VIB members.    The VIB sale runs from the 19th to 24th.  You also save 15% but get a day less to shop and can't bring a friend or get a tote bag.  Your friend could always shop with you & just use your card if they care more about the discount than the points.  If you want to shop online, the code is VIBSPRING.
If you are a regular Beauty Insider the codes have not gone out but rumour is that you get 10% from April 20th to 23rd online and in-store with coupon code BISPRING.  They do not advertise seasonal savings as a perk for regular Beauty Insiders so it is nice to get a discount.  If you are not a member, sign up to get the free birthday gift!
Sephora Spring Sale Tips
Since you do need to enter a coupon code, you will not be able to add a deluxe sample with your order.
Shipping is free when you spend $50 or more.  Sephora is usually very quick to ship even on sale days but expect minor delays due to volume.
If you are close to the threshold for VIB or Rouge, it is not worth spending now to bump up to the next level.  They usually apply the codes about a week before.
They do tend to sell out of popular items fast, especially when the high spenders get first dibs.
If you want the bigger discount in the fall, you need to spend at least $350 to make it to VIB or $1000 for Rouge
Some of the best deals will be the value sets which are already a good price but even better when discounted.