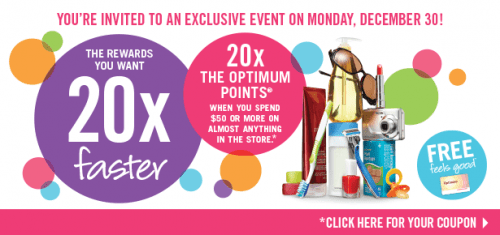 Redeemed all your points? Start collecting them again with 20x Optimum Points when you spend $50 or more on almost anything in the store tomorrow with this printable coupon.  I am happy to see $50 promotions again, it is rare that I will spend $75-100 at one time at Shoppers Drug Mart.
Excludes prescription purchases, non-pointable items, Shoppers Optimum Bonus Points ® , RBC ® Shoppers Optimum ® MasterCard ® points and points associated with the RBC ® Shoppers Optimum Banking Account, products that contain codeine, tobacco products (where applicable), lottery tickets, passport photos, stamps, transit tickets and passes, event tickets, gift cards, prepaid phone cards, prepaid card products and Shoppers Home Health Care ® locations.
Points will be added by or on January 6th.  Click here to print your coupon for this promotion.