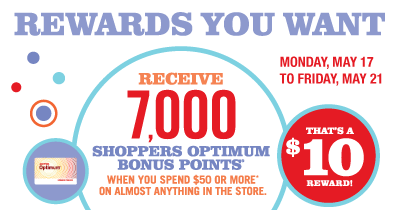 Is your Optimum Points balance feeling lonely after last weekend's Bonus Redemption? Fear not! On May 17 – May 21, 2010, Shoppers Drug Mart is giving 7000 Bonus Optimum Points when you spend $50 or more (usual exceptions apply). Now I know this offer is not as great as 20x the points but if you check the flyer for deals and use coupons, it may be worth your while.
***UPDATE***Apparently, this is for Atlantic provinces only. Although I phoned SDM Customer Service this morning and I was told it was nationwide.
Thanks to matrix82 for the heads up!