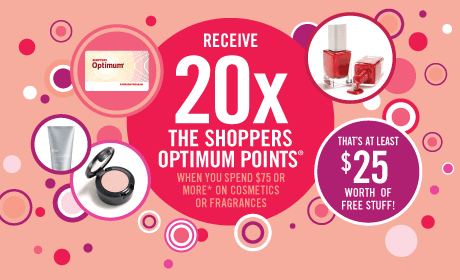 Just a reminder that the Beauty Gala at Shoppers Drug Mart is this Saturday, so go buy those tickets now if you want to get the maximum value.  For $10, you will receive a mini makeover, skincare consultation, gift bag and $5 towards your purchase.
I also confirmed that the Optimum offer will be 20x points when you spend $75 or more on beauty (and your $5 coupon towards purchase will reduce your Optimum spending, so you need to spend $80 if using it).  These Optimum promotions usually include make-up, select skin-care, hair colour, jewellery, hosiery, nail care, bath foam/gel and fragrances.
Are you attending the beauty gala? Let us know what you get  in your goodie bag as they vary from store to store.