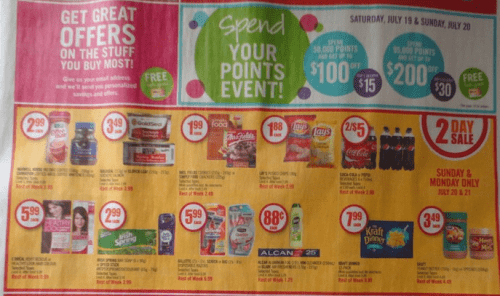 Want to spend your Shoppers Drug Mart points?  Shop this weekend at bonus redemption and we have a super early sneak peek so you can start your shopping list now thanks to cyn88canada.
Redeem 50,000 points for $100 (an extra $15)
Redeem 95,000 points for $200 (an extra $30)
Unlike last week's beauty redemption, you can redeem for almost anything in the store with this redemption offer on Saturday 19 July and Sunday 20 July.  The two day sales are valid Sunday & Monday so unless you want a very popular item, you may want to wait until Sunday to shop.  Our sneak peek also includes the electronics flyer if you are looking to redeem on higher end items.
Don't forget that while you will not earn points on items that are 10x Optimum points, you can get some points back if they have a set number of points when you buy an item.