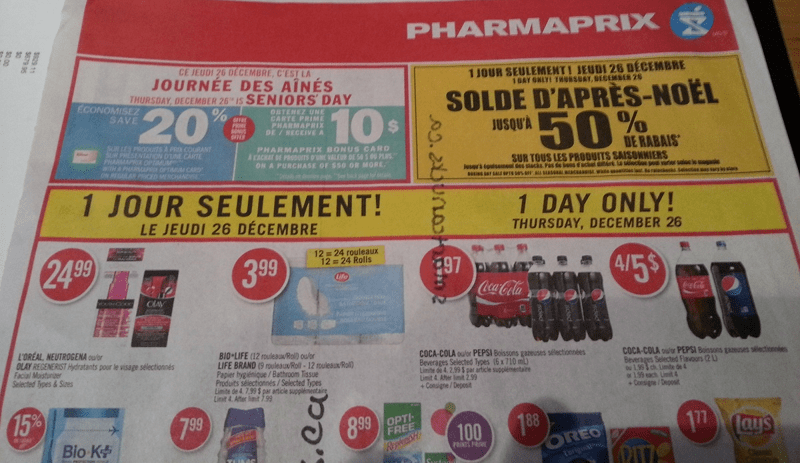 Thanks to Natynat we have the Shoppers Drug Mart Boxing Day Flyer 2013 (Pharmaprix). This is the Quebec Pharmaprix flyer but usually this flyer is almost identical to the rest of the Shoppers Drug Mart flyers nation-wide. This is the first time the Shoppers Drug Mart Boxing Day flyer for 2013 is released on the Internet and is only available on SmartCanucks. I hope you find it useful 😉
Featured Shoppers Drug Mart Boxing Day Offers:
Thursday December 26 is Seniors' day. Save 20% with a Shoppers Optimum Points on regular priced merchandise.
Receive a $10 bonus card on a purchase of $50 or more (regular priced merchandise)
Shoppers Drug Mart Boxing Day 2013 Electronics Deals
Beats by DR. Dre, for $200.44
Select Nintendo, Playstation 3 and XBOX 360 Games for $19.99
Nintendo Wii Mini $73.74
Playstation 3 $173.74
Canon printer $48,74
Sony Portable Wireless Speaker $70.44
PowerBeats by Dr. DRE for $100.44
Keurig Tassimo for $59.99
Canon Camera $50,44
LLOTDS 29" TV for $152.24
and more… please see flyer.