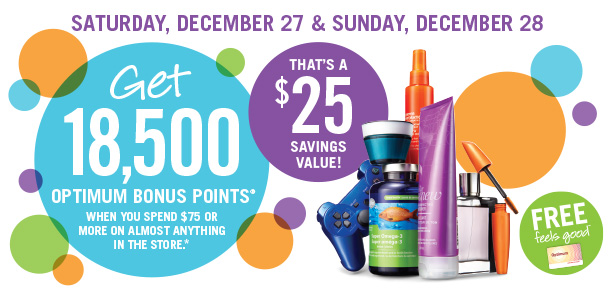 Shoppers Drug Mart has a little bonus for us for Boxing Week. Get 18,500 bonus Shoppers Drug Mart Optimum points when you spend $75 or more on almost anything in the store. That's about $25 worth of free stuff. This Shoppers Drug Mart Boxing Week offer is valid December 27-28, 2014.
Don't forget to combine this offer with the Christmas sale! Starting tomorrow all Christmas items will go on sale for usually around 50% off, although some go for even cheaper. I find each Shoppers Drug Mart store significantly varies in the amount of Christmas items left, so make sure you check a few and find less busy branches 😉 Also check out the Shoppers Drug Mart flyer here to plan your shopping trip.
Details on what offer is valid on: Valid on the purchase total of eligible products using a valid Shoppers Optimum Card after discounts and redemptions and before taxes. Maximum 18,500 points per offer regardless of total dollar value of transaction. Excludes prescription purchases, products that contain codeine, non-pointable items, tobacco products (where applicable), lottery tickets, stamps, transit tickets and passes, event tickets, gift cards, prepaid card products and Shoppers Home Healthcare locations. Offer applies to photofinishing services that are picked up and paid for on the day of the offer only. Not to be used in conjunction with any other points promotions or offers.
Click here for Shoppers Drug Mart flyer