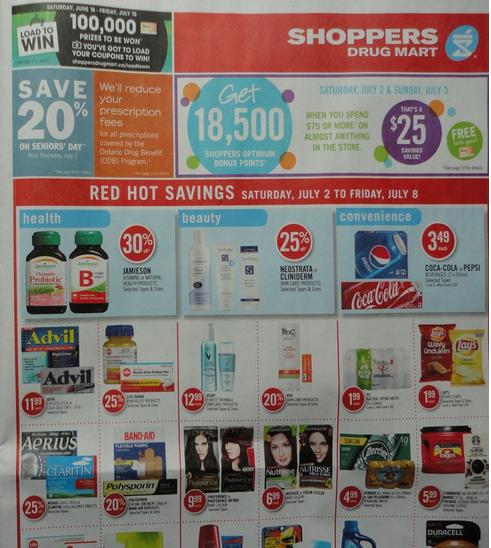 Here is your sneak peek of the Shoppers Drug Mart Ontario flyer, valid July the 2nd to the 8th. The promo for the weekend, July the 2nd and 3rd, is the popular 18500 points when you spend $75 or more, which is actually high in value than 20x the points.
There is also a two day sale valid on both of these days, so here are some of the items you may want to include in your $75 shop on either of these days:
6 pack Coke or Pepsi $2.49
Christie Cookies or Crackers $1.88
Ruffles or Sun Chips 2/$5
Life Brand Paper Towels 2/$5
No Name Butter $3.49
Dozen Eggs $2.29
Keep in mind there is a limit of four for all of the two day sale items, with the exception of eggs where the limit is two.
There are no free wipes to be had this week, but here are some of the week long deals:
D'Italiano Bread 2/$5
International Delight 946ml $3.99
Huggies Jumbo Packs $11.99
12pk Pop $3.49
Lays $1.99
Folgers Coffee $5.99
No Name Chips 2/$2
Click here to view the Shoppers Drug Mart Ontario flyer beginning July the 2nd.