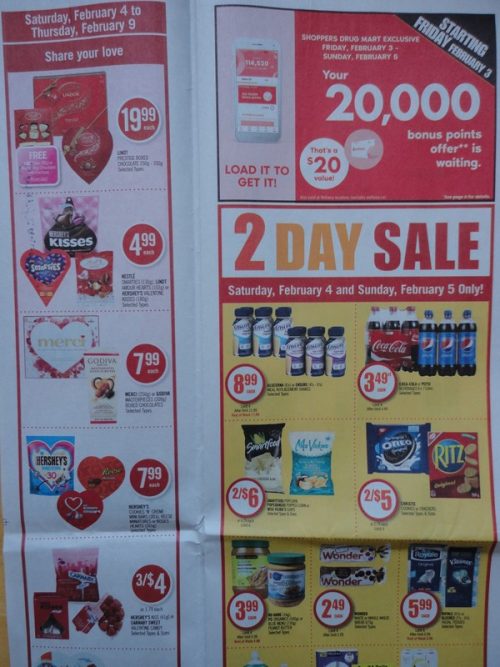 From Friday, February the 3rd, to Sunday, February the 6th, get 20,000 PC Optimum points with a loadable offer that you will find in your app. The most common offer is 20,000 points for spending $60, but this will vary by account.
There is a two day sale this weekend, and here are some of the advertised items:
No Name or Blue Menu Peanut Butter $3.99
Wonder Bread $2.49
Royale or Kleenex Facial Tissue 6pk $5.99
Dawn or PC Dish Soap $1.99
Cottonelle Bathroom Tissue $5.99
PC or Bounty Paper Towels $5.99
Purex or Fleecy $4.49
Ensure or Glucerna $8.99
Coke or Pepsi 6pk $3.49
Smart Food or Miss Vickie's 2/$6
Christie Cookies or Crackers 2/$5
There is also a bonus redemption event from February the 3rd to the 8th. Use 50.000 points for $65 off, 100,000 points for $140 off, or 200,000 points for $300 off your purchase.
There are a couple of gift card offers in this flyer as well. Get 10,000 PC Optimum points for every $100 spent on Airbnb gift cards, and 10,000 points for every $50 spent on Reitman's gift cards. Be sure to read the details in the fine print as these points will not award right away.
Click here to view the upcoming Shoppers Drug Mart Canada flyer!