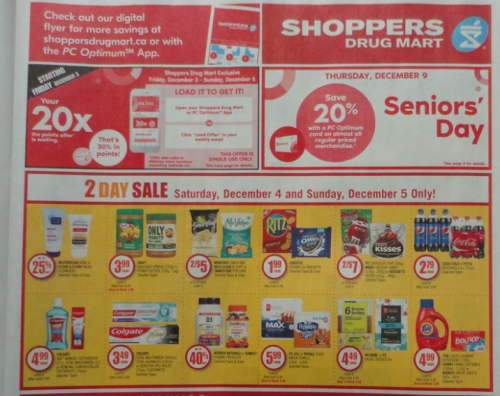 This weekend get 20x the PC Optimum points at Shoppers Drug Mart Canada with a loadable offer that you will find in your app. Most commonly the offer is 20x the points when you spend $50, but amounts may vary, and around the holidays the spend amount may be a little. Check your PC Optimum app on Thursday morning for your offer details.
There is a two day sale on December 4th and 5th, and here are some of the included items:
Kraft Peanut Butter $3.99
Smartfood or Miss Vickie's 2/$5
Christie Cookies or Crackers $1.99
Hershey Kisses or M&Ms 2/$7
6pk Coke or Pepsi $2.79
Colgate Premium Toothpaste $3.49
Royale Tiger Towels $5.99
PC or No Name Facial Tissue 6pk $4.49
Tide or Bounce $4.99
No Name Butter $2.99
Dozen Eggs $2.49
Wonder Bread $1.88
There is also a gift card offer coming up. From December the 4th to the 10th, get 5,000 points for every $50 spent on Apple gift cards.
Click here to view the upcoming flyer on our forum.