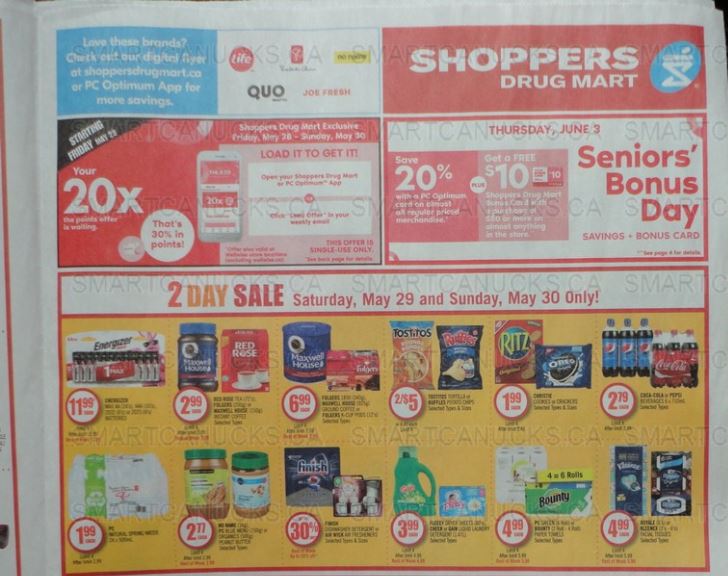 Check your PC Optimum app this Thursday for a 20x the points loadable offer valid at Shoppers Drug Mart Canada this weekend. This one time use offer can be used from Saturday, May 28th, to Sunday, May the 30th. The amount you will need to spend will be specified in your offer and may be $50, or it may be $75, etc.
There is a two day sale May 29th and 30th, and here are some of the advertised items for this weekend:
Energizer Batteries $11.98
Maxwell House Coffee or Red Rose Tea $2.99
Tostitos or Ruffles 2/$5
Christie Cookies or Crackers $1.99
6pk Coke or Pepsi $2.79
PC Spring Water $1.99
No Name Peanut Butter $2.77
Finish or Air Wick Products 30% off
Gain or Fleecy $3.99
Bounty Paper Towels $4.99
Kleenex or Royale Facial Tissue 6pk $4.99
No Name Butter $3.49
Dozen Eggs $2.29
No Name Bacon $3.99
Neilson Chocolate Milk $1.29
Stouffer's Entrees or Lean Cuisine $1.99
Ristorante or Delissio Thin Crispy Pizza $2.99
Schneider's Red Hots or Juice Jumbos $3.99
There are also all kinds of bonus PC Optimum points offers on items in this flyer, so take a good look!
Click here to view the flyer on our forum.