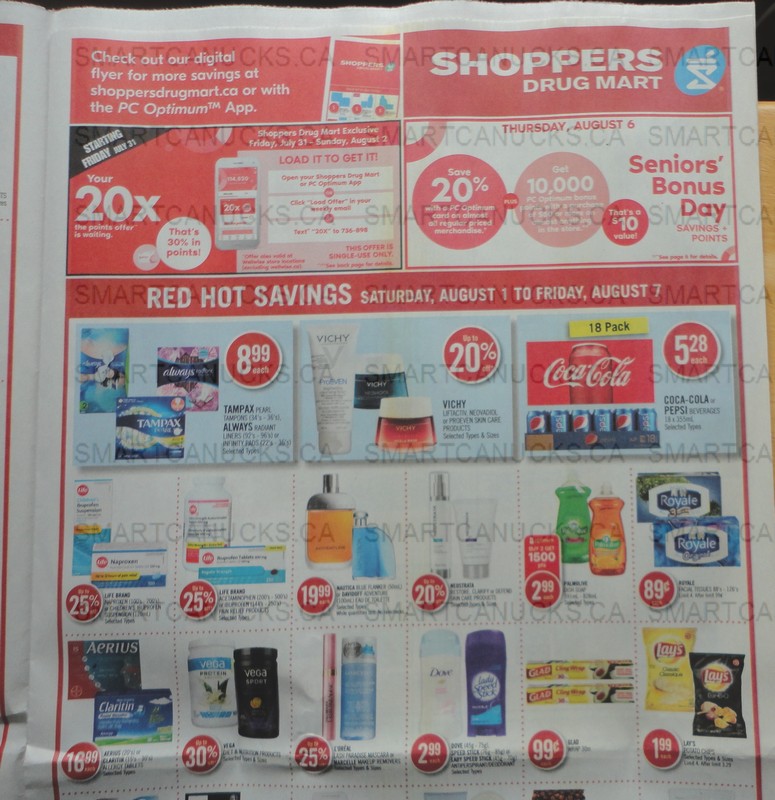 There's another 20x the PC Optimum points event coming to Shoppers Drug Mart Canada this weekend, and you will find that offer in your app, and it will be valid from July the 31st to August the 2nd. The amount you will required to spend to get that 20x the points may vary from person to person. The most common offer is usually 20x the points when you spend $50, however, some people may get an offer of 20x the points when you spend $75, etc.
There is a two day sale as well on the weekend, and here are some of Saturday and Sunday's deals:
6 Pack Coke or Pepsi products 2/$5
Royale Original or Royale 24 Rolls Bathroom Tissue $4.99
Christie Cookies or Crackers $1.99
Bounty Paper Towels $4.99
Ruffles or Doritos 2/$5
Dozen Eggs $1.99
No Name Butter $3.49
There is a gift card in this flyer as well, and you will receive 10,000 PC Optimum points when you spend $50 on Bed Bath & Beyond gift cards. Note that it's just for spending $50, and not "for every" $50, so if you want to spend $100 make sure to do separate transactions.
Click here to view the upcoming flyer on our forum.