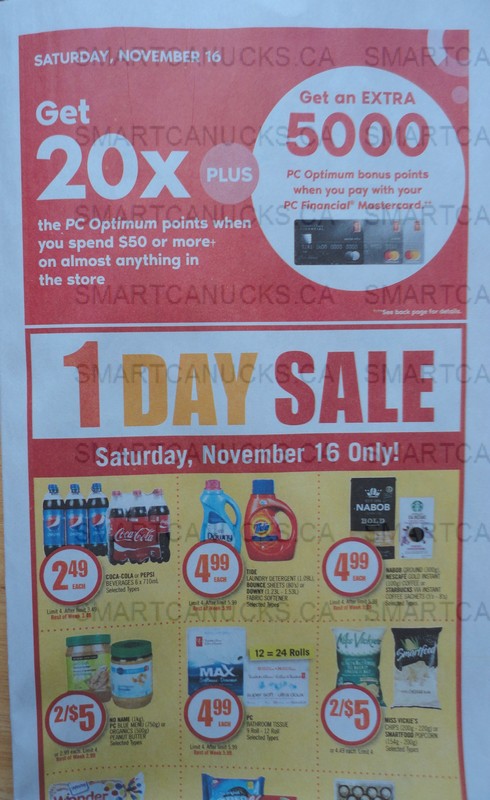 There's a great promotion at Shoppers Drug Mart Canada this Saturday, November the 16th. Spend $50 or more on nearly anything in the store and get 20x the PC Optimum points, PLUS get an extra 5000 PC Optimum points when you pay for your purchase with your PC Financial Mastercard.
There is also a one day sale and Saturday, and here are some items you may want to add to your shopping list:
Coke or Pepsi 6pk $2.49
Tide or Downy $4.99
No Name Peanut Butter 2/$5
Miss Vickie's or Smartfood 2/$5
Christie Cookies or Crackers $1.99
Colgate Toothpaste or Toothbrushes .88
Dozen Eggs $1.88
No Name Butter $3.49
If you shop on Sunday, November the 17th, there is another PC Optimum promotion, which will get you 25,000 points when you spend $75 or more. While you won't be able to take advantage of the one day sale prices from Saturday, and you won't get that extra 5k for using a PC Financial Mastercard, 25k for spending $75 is worth slightly more than 20x the points, so still a good promotion is you cannot shop on Saturday.
Click here to view the upcoming flyer.