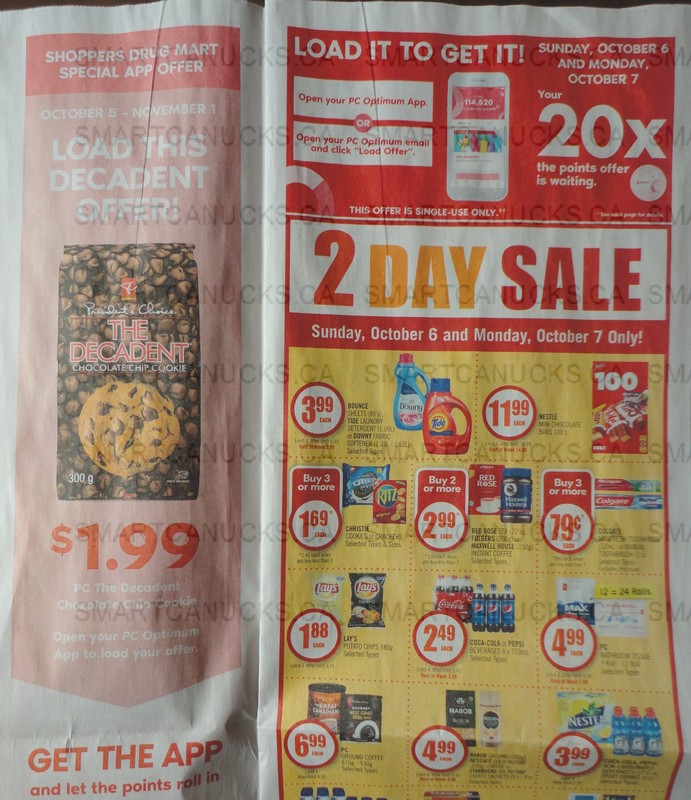 This weekend at Shoppers Drug Mart Canada, get 20x the PC Optimum points when you spend $50 or more. This offer, valid Sunday the 6th and Monday the 7th, can be found in your PC Optimum app, and is valid for one time use.
There is also a two day sale on these days with some great prices! Here are some of the highlights:
PC Ground Coffee $6.99
Royale Facial Tissue 6pk $4.99
Alcan Foil or Glad Cling Wrap .88
Bounce, Tide, or Downy Products $3.99
Christy Cookies or Crackers $1.69 each when you buy three or more
Colgate Base Toothpaste or Toothbrushes 79 cents each when you buy three or more
Lay's Potato Chips $1.88
Dozen Eggs $1.88
Armstrong Cheese Bars 2/$5
No Name Butter $3.49
Note that a couple of the two day offers are when you purchase three or more. This is great when it comes to things like the Christie cookies or crackers on sale for $1.69, because this is already a low price, 20x the PC Optimum points is an additional 30% back, and you are able to stock up on as  many as you'd like without the usual limit of four.
Click here to view the Shoppers Drug Mart Canada flyer valid October the 5th to the 10th.