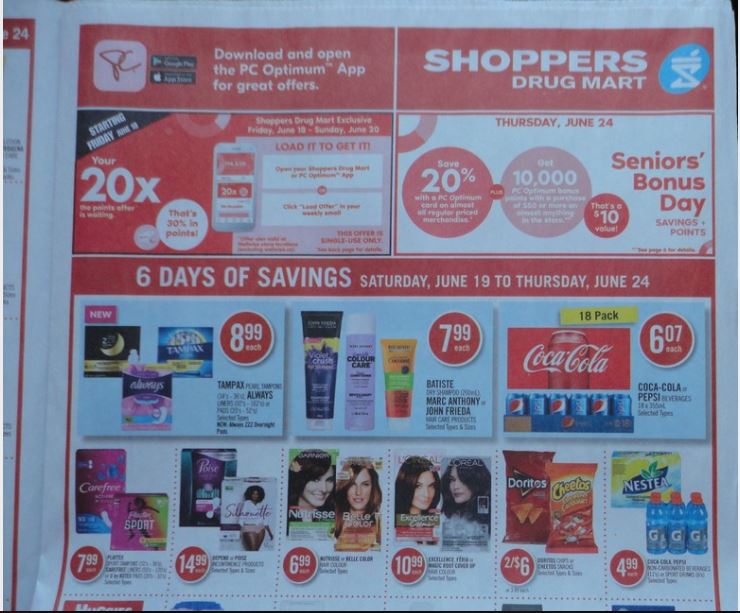 The weekend at Shoppers Drug Mart Canada you will have the opportunity to use a loadable 20x the PC Optimum points offer. You will find this offer in your app when you receive your new offers on Thursday morning this week. This offer will be valid from June the 18th to the 20th, and it is valid for one time use only.
There is a two day sale on the Saturday and Sunday, and here are some of the items included:
6 Pack Coke or Pepsi $2.79
Lay's $1.88
Tide or Bounce $4.99
Christie Cookie or Crackers $1.99
Maxwell House Instant Coffee or Red Rose Tea $2.99
Royale Tiger Towels or PC Paper Towels $4.99
Kraft Peanut Butter or Hazelnut Spread $3.99
PC Spring Water $1.99
PC or No Name Facial Tissue 6pk $3.99
Select Sunscreens up to 25% off
Select Fragrances $18.88
PC Bacon $4.99
Wonder Bread $1.99
Dozen Eggs $2.29
No Name Butter $3.49
PC Burgers $11.99
All week long, spend $100 on Ultimate Dining Gift Cards and get 15,000 PC Optimum points.
Click here to view the upcoming flyer on our forum!