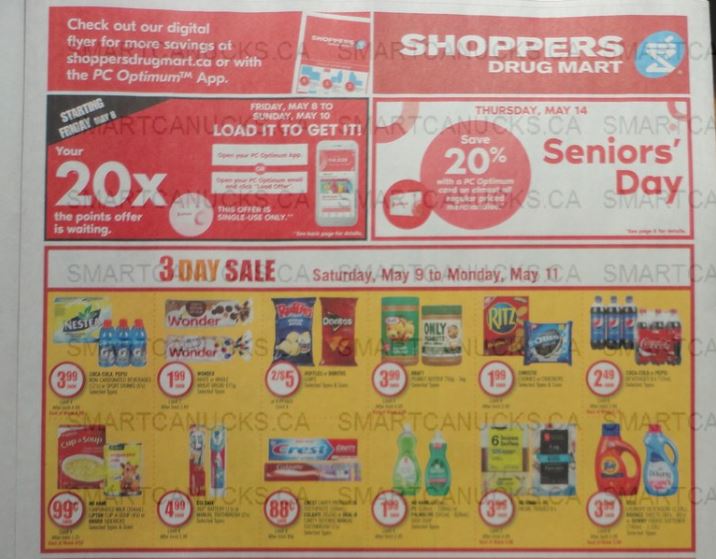 This Friday, May the 8th, to Sunday, May the 10th, get 20x the PC Optimum points at Shoppers Drug Mart Canada with a loadable offer that you will find in your app.
On Friday the 8th there will be no flyer in effect, so you may prefer to do your shopping on the Saturday or Sunday, when there are sale prices, including these three day sale prices:
Wonder Bread $1.99
Ruffles or Doritos 2/$5
Kraft Peanut Butter $3.99
Christie Cookies or Crackers $1.99
Coke or Pepsi 6pk $2.49
Lip Cup-A-Soup .99
Crest Toothpaste .88
Palmolive Dish Soap $1.99
No Name or PC Facial Tissue 6pk $3.99
Tide or Fleecy $3.99
No Name Butter $3.49
This three day sale is effective on Saturday, Sunday, and Monday. With Mother's Day happening this weekend, you may want to pick up a gift for mom so be sure to take a look at the fragrance gift sets and gifts with purchase advertised in this flyer. Combined with the 20x the points there are many great gift ideas, including the $90 fragrance sampler, which includes 10 vials and a gift certificate for a full bottle of mom's favourite perfume from the set.
Click here to view the upcoming Shoppers Drug Mart Canada flyer.