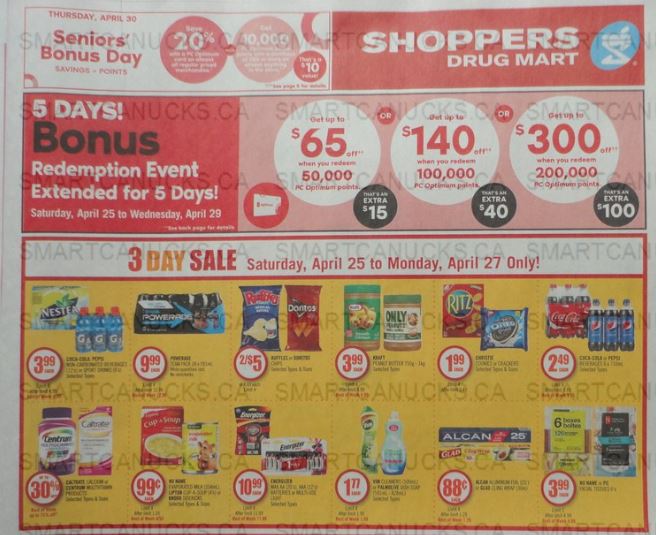 Shoppers Drug Mart Canada has an upcoming bonus redemption event that will begin on April the 25th. Instead of lasting for the usual two to three days, this event will last a full five days. This may be helpful to those of you who are regularly visiting Shoppers Drug Mart during the week, and do not want to make a trip there on the weekend.
The redemptions levels are what we have usually come to expect for a bonus event. Redeem 50,000 points and get $65 off, redeem 100,000 points get $140 off, or redeem 200,000 p0ints and the $300 off.
There is a three day sale happening from Saturday to Monday, and here are some of the included items:
Powerade Case $9.99
Kraft Peanut Butter $3.99
Ruffles or Doritos 2/$5
Christie Cookies or Crackers $1.99
Coke or Pepsi 6 Pack $2.49
Vim or Palmolive Dish Soap $1.77
Alcan Foil or Glad Cling Wrap .88
No Name or PC Facial Tissue 6pk  $3.99
Click here to view the complete flyer on our forum.