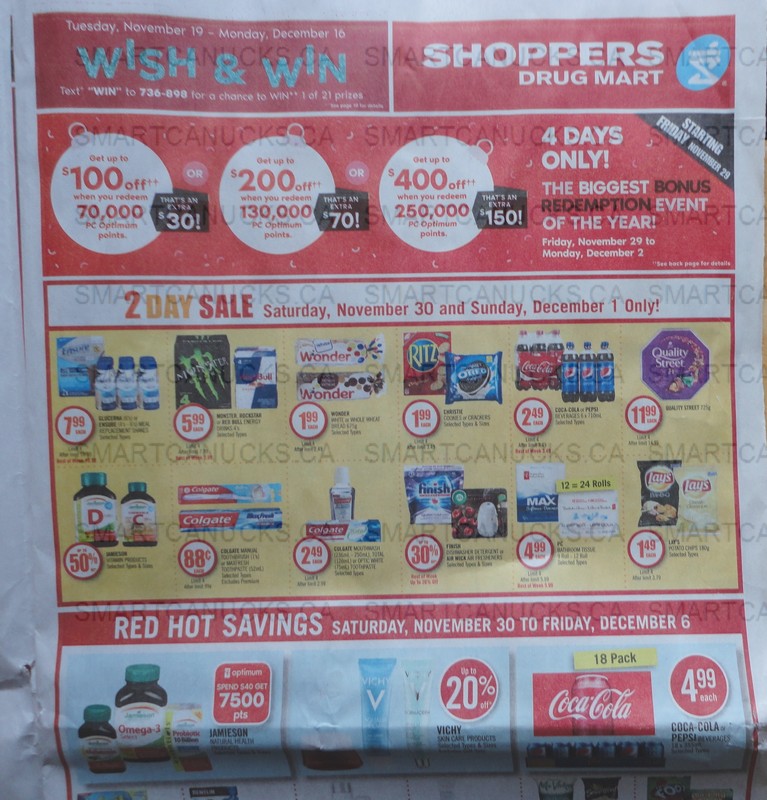 Many of you are looking forward to Shoppers Drug Mart Canada's biggest bonus redemption flyer of the year, and here is a sneak peek of the flyer to help you plan out your redemption shop.
From November the 29th to December the 2nd, redeem your PC Optimum points for increased value. During these four days, 70,000 points is worth $100, 130,000 points is worth $200, and 250,000 points is worth $400!
Keep in mind that while the bonus redemption starts Friday, the pricing in this flyer does not kick in until Saturday. However, if you want to ensure you get a particular item and it's not on sale in this flyer, or it's advertised at regular price in this flyer, then you might want to redeem on Friday to avoid being disappointed.
There is a two day sale on the Saturday and Sunday, with plenty of items at great prices that you might also want to add to your redemption shop, so take a good look at those, keeping in mind the usual limit of four of each item.
Click here to view the upcoming Shoppers Drug Mart flyer.