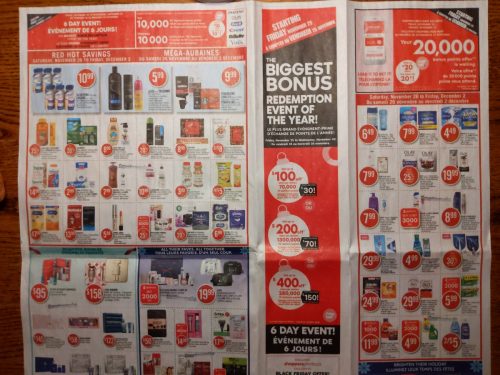 Here is a sneak peek of Shoppers Drug Mart Canada's Biggest Redemption Event of the Year flyer! You can now start planning what you be redeeming your points on during this 6-day event. Beginning Friday, November 25th, get $100 off when you redeem 70,000 points, $200 off when you redeem 130,000 points, and $400 off when you redeem $250 points! You can get up to and extra $150!
There is a 2-day sale this weekend, and here are the items included:
Wonder Bread $2.49
Maxwell House Coffee or Red Rose Tea $3.99
Christie Cookies or Crackers 2/$5
Lay's $1.69
6pk Coke or Pepsi Products $3.49
Quality Street $13.49
No Name Paper Towels $3.49
PC Paper Towels $5.99
Select Advent Calendars $10.99
Neilson 1L Chocolate Milk 2/$3
No Name Bacon $3.99
Dozen Eggs $3.29
No Name Butter $4.69
Lantic Sugar $2.49
No Name Peanut Butter $2.99
PC Frozen Burgers $13.99
There is also a page of electronics that are part of the 2-day sale this weekend, so be sure to check that out and plan ahead to see if the store you plan to redeem carries these types of items.
Click here to preview The Biggest Redemption Event of the Year flyer from Shoppers Drug Mart Canada!