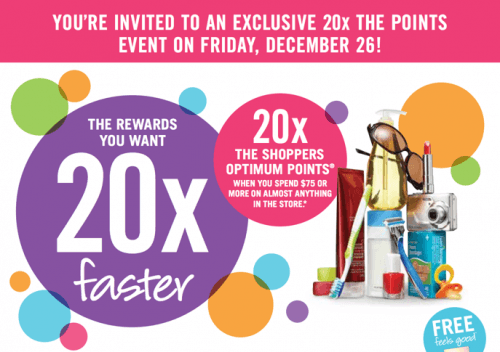 You're invited to an exclu­sive 20x the Shop­pers Drug Mart opti­mum points Boxing Day 2014 event on this Friday, December 26, 2014! Get 20x the Shoppers optimum points when you spend $75 or more on almost anything in the store.
The Shoppers Drug Mart opti­mum points will be awarded to your account by end of day Friday, January 9, 2015. Limit of one coupon per customer per day.
Excludes: prescription purchases, non-pointable items, Shoppers Optimum Bonus Points, RBC Shoppers Optimum MasterCard points and points associated with the RBC Shoppers Optimum Banking Account, products that contain codeine, tobacco products, lottery tickets, passport photos, stamps, transit tickets and passes, event tickets, gift cards, prepaid phone cards, prepaid card products and Shoppers Home Health Care locations. Offer applies to photofinishing services that are picked up and paid for on the day of the offer only.
Click here to print and present your Shop­pers Drug Mart Canada coupon.
Click here to view Shop­pers Drug Mart Canada online fly­ers.