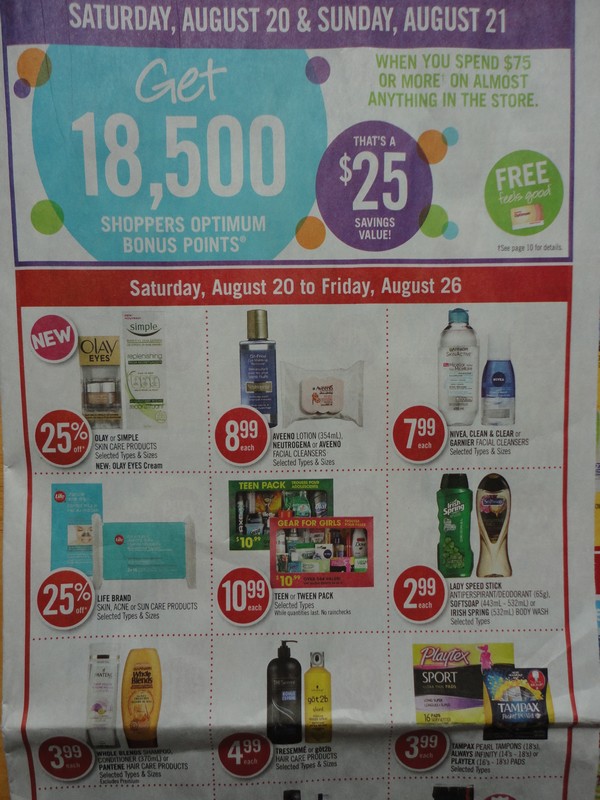 Here is a sneak peek of the Shoppers Drug Mart Ontario flyer, valid  August the 20th to the 26th, a full seven day flyer this time. The Optimum promotion for the weekend is the only promotion higher in value than 20x the points, and that 18,500 Optimum points when you spend $75 or more on anything in the store. This promotion runs for two days, Saturday the 20th, and Sunday the 21st.
There is also a two day sale on the Sunday and the Monday, so if any of these items appeal to you, you may want to plan your $75 for Sunday instead of Saturday. Here are some of the highlights of the two day sale:
PC Spring Water 24's $1.99
Wonder Bread $1.88
Ruffles or Tostitos 2/$5
Christie Cookies or Crackers $1.88
Gain or Cheer $3.99
Bounty Paper Towels $4.99
Dozen Eggs $1.99
No Name Butter $3.49
Here are some of the week long deals that you may want to take advantage of with your personal points offers that you may receive through the week:
Colgate Toothpaste or Brushes .99
Peek Freans Cookies $1.99
Playtex Sport $3.99
Knorr Sidekicks .99
Huggies Super Boxed Diapers $22.99
Casa Mendosa Tortillas $2.99
Click here to view the Shoppers Drug Mart flyer valid August 20th to 26th.