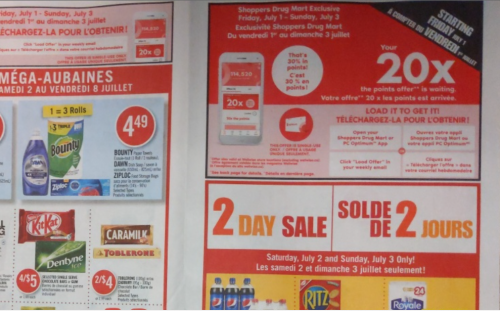 This coming weekend at Shoppers Drug Mart Canada, you will be able to collect 20x the PC Optimum points, with an offer that you will find in your app. Your offer is personalized and is valid for one time use, and you will find the details of this offer in your app on Thursday morning when your new offers are available.
There is also a 2 day sale this weekend, and here are some of the sale items you might be interested in:
6 pack Coke or Pepsi 2/$6
Christie Cookies or Crackers 2/$4
Royale Bathroom Tissue $5.99
Lay's Potato Chips $2.29
Wonder Bread $2.29
Kraft Peanut Butter $4.99
PC Spring Water $2.29
Tetley Tea or Nescafe Instant Coffee $3.99
Boost $8.99
Tide or Downy $5.99
PC or No Name Facial Tissue 6pk $4.99
Royale Tiger Towels $5.99
Dozen Eggs $3.19
No Name Butter $4.29
PC Bacon $5.99
Delissio or Dr. Oetker Thin Crust Pizzas 3/$10
Stouffer's Entrees or Lean Cuisine 2/$5
Click here to view the upcoming flyer on our forum.