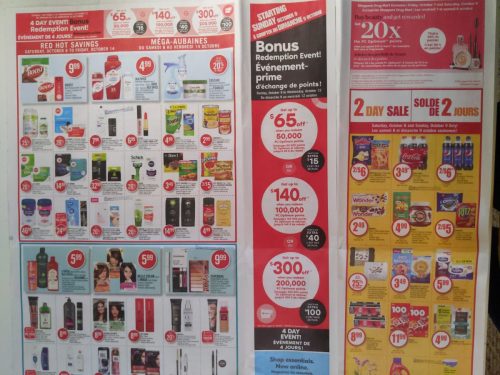 A four-day bonus redemption event is coming up at Shoppers Drug Mart Canada, and you will have the ability to get even more value out of the PC Optimum points that you have earned.
Beginning October the 9th, redeem 50,000 PC Optimum points for $65 off, 100,00 PC Optimum points for $140 off, or 200,000 PC Optimum points for $300 off.
You might want to include some of the two-day sale items in your redemption, and here are some of items on sale on the Saturday and Sunday:
Ruffles or Doritos 2/$6
6pk Coke $3.49
6pk Peps 2/$6
Wonder Bread $2.49
Kraft Peanut Butter or Hazelnut Spread $4.99
Christie Cookies or Crackers 2/$5
Kellogg's or Post Cereals $3.49
Royale Bathroom Tissue $5.99
Nestle Minis 100's $11.99
6pk No Name Facial Tissue $4.99
Tide or Bounce $5.99
No Name Butter $4.69
PC Bacon $5.99
Dozen Eggs $3.29
No Name Condensed Milk 3/$4
PC or No Name Cheese Bars 2/$4
Farmer's Market Pies $6.99
Seaquest Shrimp Ring $9.99
Click here to view the flyer on our forum.