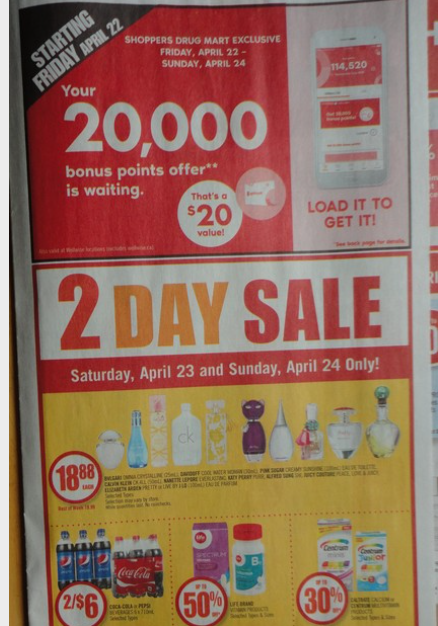 From Friday, April 22nd, to Sunday, April the 24th, you will have an offer of 20,000 PC Optimum points in your app. The most common offer will likely be 20,000 points when you spend $60, but it may be higher than this. You will find this offer in your PC Optimum app on Thursday morning.
There is also a two day sale this weekend, and here are some of the items included:
Select Fragrances $18.88
Coke or Pepsi 6pk 2/$6
Christie Cookies or Crackers 2/$4
Boost $8.99
PC Bacon $5.99
No Name Butter $4.29
No Name Eggs $2.99
Ristorante or Delissio Thin Crust Pizza 3/$10
PC or Name Name Cheese Bars $4.49
Stouffer's or Lean Cuisine Entrees $2.29
Knorr Sidekicks or Lipton Cup A Soup 2/$3
There is a gift card offer as well this week. From April the 23rd to the 29th, get 7,500 points for every $50 or more spent on Sony gift cards. Watch the wording of this one though, because you will get 7,500 points whether you spend $50 or $100. If you are spending for example, $100, be sure to break it up into separate $50 purchases.
Click here to view the flyer on our forum.